Welcome Message
Fall semester F22 - Information Message


Dear students of the distance learning programmes,
On behalf of the Distance Learning Unit (DLU) of the university, we provide you with some information in relation with the Fall semester F22 commencement. 
Week 0 of classes is September, 26. The beginning of classes (week 1) is set to be October, 3.
Step 1: You will receive your academic passwords via mobile phone (sms). With your passwords you have access to all the online services of the university.
Step 2: Make sure that you have logged in to your academic email (webmail) with your passwords, and keep checking it daily for any updates from academic and administrative staff of the University.
Step 3: Accept your courses via extranet. The procedure of being activated and registered to the semester is automated. You will be able to view your courses via the student platform extranet.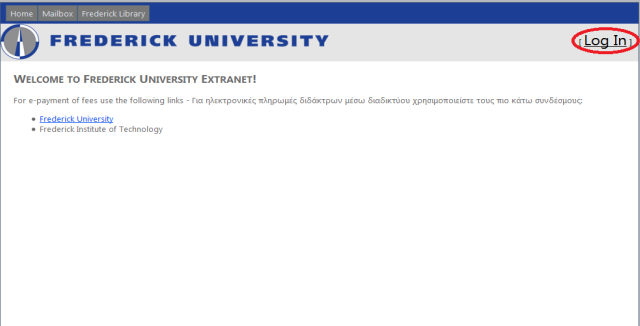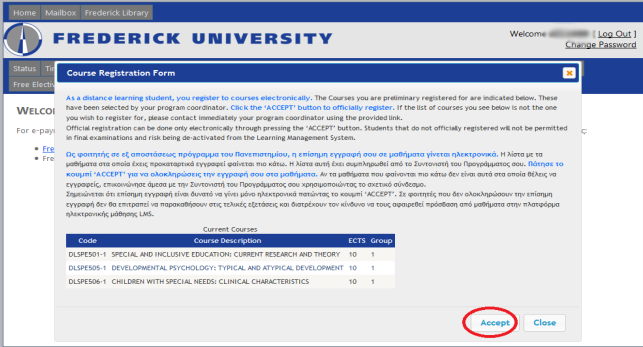 In case you wish any amendment of your courses, please get in contact with your programme's Coordinator or with an administrative officer.
Step 4: Your registration in your courses in the online student platform (Lms) is automated. Log in with your passwords in the Lms platform and find the courses you have been registered to under the "My courses" section.
.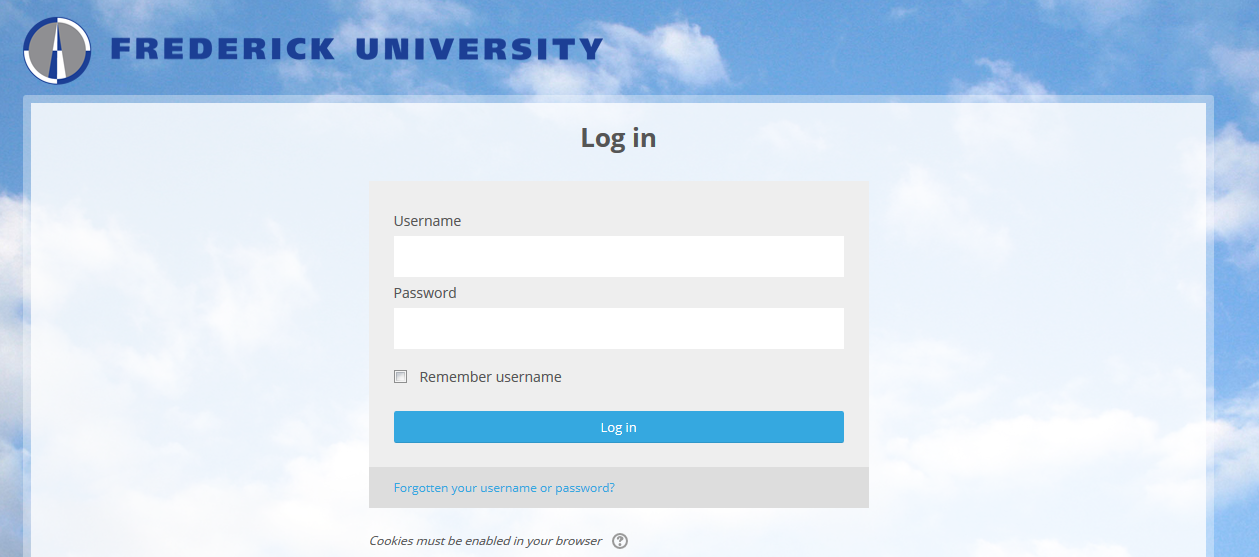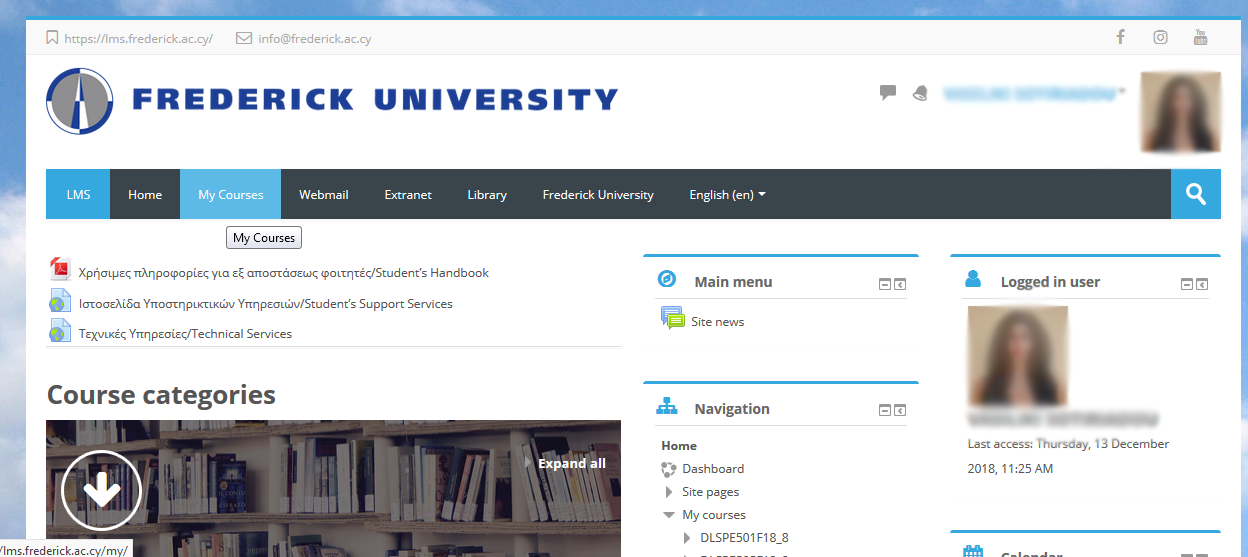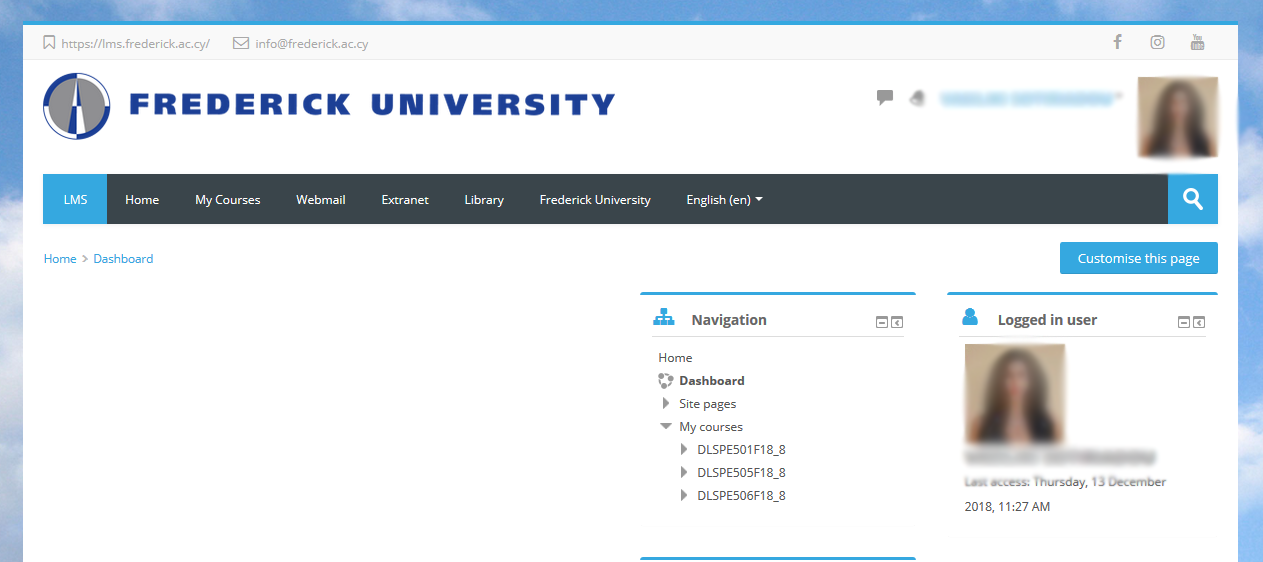 Please follow the links below to find out more about:
Academic Calendar: The academic calendar includes all the important dates of each academic year and is posted on the official website of the University


Information regarding the Curriculum: Log in to the University's distance learning website https://dl.frederick.ac.cy/en/ and find out about your curriculum. Specifically, for the courses of your program, the teaching Link to the Frederick University website https://www.frederick.ac.cy/ to be informed about all the programs of the University and for other interesting updates.
DL Website: Log in to the Distance Learning Unit website and find out about the University services, study topics, final exams and other issues that concern
DL Students Portal
In the Lms platform, a space has been created in order to familiarize students with the tools and use of the Lms platform through training seminars, training on how distance learning works, the procedures and regulations that govern the University and access to announcements and updates concerning distance learning students. Through the discussion forum of this area, students can express questions they may have and affect their attendance.
DL Induction Course
During the introductory week, you will have the opportunity to watch videos and study useful guides that will enhance your familiarity with the technological tools of distance education. At the end of the training you will be able to take part in self-assessment tests.
The Distance Learning Unit team is at your disposal for further information and / or clarifications.
We wish you a good start and every success in your new beginning!!!
Distance Learning Unit - DLU
Contact info: This email address is being protected from spambots. You need JavaScript enabled to view it. or also +357 22394440