Accommodation
Limassol, with approximately 250,000 inhabitants, is the second largest city in the Republic of Cyprus. It is located on the southern-eastern part of the island and offers all the advantages of a large city.
Limassol is the largest coastal resort in Cyprus and as such has plenty of attractions on offer for visitors and locals alike.
The city attracts a considerable amount of visitors each year, who come to discover its beautiful beaches which offer numerous water activities such as scuba diving, jet skiing and para-gliding and many other water sports. Moreover, the city is significantly famous for its historical and archaeological sites that are to this day some of its most popular attractions.
In the summertime, fun takes a whole new meaning here in Cyprus. Fun music, non-stop dancing, great weather, amazing people and funky clubs located on the beach.
Accommodation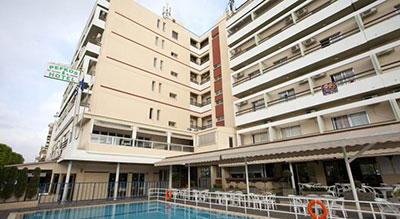 Students are accommodated in Pefkos Hotel, a 3 start family owned hotel. 
All rooms have been recently refurbished and have private bath / shower, satellite TV, small fridge, direct dial telephone, private A/C unit ( hot & cold) radio, hair dryer and balcony. 
Pefkos is the NEAREST Hotel and within walking distance (10 to 15 minutes) from town to the Limassol Marina, the famous medieval Castle area in the Old City and the  main shopping area of Limassol city!
The Hotel features an outdoor swimming pool, a restaurant and a pool bar, where the participants can enjoy freshly prepared snacks.
Free WIFI internet is available as well as a cleaning service.  A  Cafeteria near the pool provides coffees and snacks at an extra charge.
Other facilities include, a restaurant serving local and international cuisine, cafeteria, lounge, TV room, and a billiards club!
Troodos camping
During the one night stay at Troodos camping site, you will experience fully the spirit of outdoor adventure by sleeping in special camp tents. The outdoor camp will be hosted in the beautiful pine "Adelfi forest" in a privately-owned, fenced area.
You will sleep in 2-4 person tents (per gender).
The facility of the site includes showers, WC, meeting area with TV for watching movies and presentations, outdoor climbing wall, archery area, paintball field and laser tag field, café and restaurant area.