News
Frederick University hosted Graphic Stories Cyprus 2022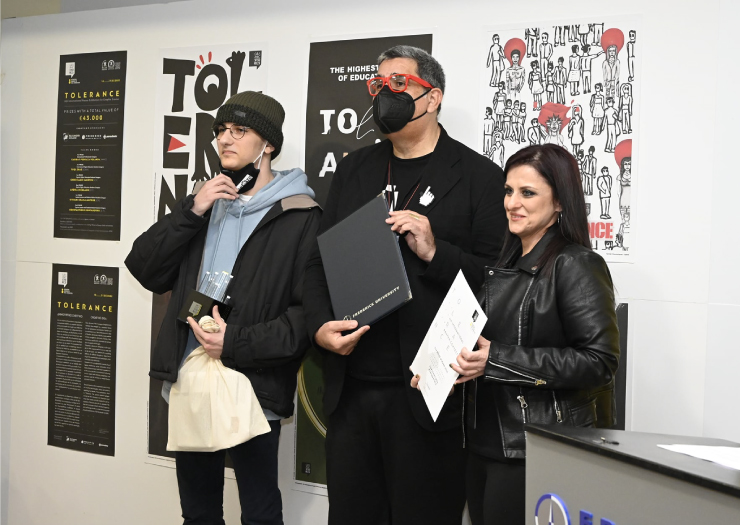 Frederick University hosted the 8th International Conference on Visual Communication, Graphic Stories, on March 18-20 at the University's Nicosia campus
This year's Conference theme was "Tolerance" and, within this framework, an international poster exhibition, featuring works by 50 international designers, was installed in the University hallway. Addressing the Conference, Ms Natassa Frederickou, President of the Council of Frederick University, said that "Frederick University is directly connected with the fields of art and visual communication. For almost four decades, the School of Arts, Communication and Cultural Studies has developed high quality undergraduate and postgraduate programs, including a PhD in Fine and Applied Arts, and through them has provided the assets to thousands of young people not only to enter the labor market but to be able to develop as individuals, to be able to develop their creativity, their self-knowledge and to be able to see the world with a critical eye. The Department of Arts and Communication at Frederick University contributes to the development of well-rounded personalities and active citizens. […] In a world where we all wake up under the same sun and we all sleep under the same sky but we seem to be separated by so much, since next to us people are killed in irrational wars, our tolerance, our ability to tolerate different opinions or behaviors, is of paramount importance. Art changes our perspective of the world. At Frederick University, we strongly believe that art can give voice to the young and their concerns and mobilize them to be the change they want to see in the world."

This year's Graphic Stories Conference included eight lectures and three creative workshops. Prof. Costas Mantzalos, Dean of the School of Arts, Communication and Cultural Studies at Frederick University, gave a lecture on "Teaching Art and Design: Promotion of Multi-Cultural Awareness and Understanding the Visual Culture". During his speech, Prof. Mantzalos presented a series of works by students of the Arts and Communication Department of Frederick University, which deal with concepts such as tolerance, diversity, equality and acceptance.

During the first day of the Conference, the exhibition and awards ceremony for the best posters was inaugurated by Nicosia's Municipal Councilor Mr Chrysanthos Fakas on Friday, March 18th. Ms Annita Dimitriou, President of the House of Representatives, conveyed her own message about Tolerance through a video that was presented to the public during the inauguration ceremony.

Frederick University offered a 30% scholarship for the Visual Art graduate program to the 2nd winner in the "Cyprus Distinction for Higher Education Students" category and a 30% scholarship for the Visual Communication undergraduate program to the 2nd winner in the "Cyprus Distinction for High School and Technical School Students" category.

Parallel to the conference and exhibition, our University organized a Human Library event, giving its students the opportunity to 'lend' not actual books, but humans who are willing to share their personal stories this contributing to the fight against discrimination and social exclusion.