ENAF - CENTER ON
GENDER ISSUES,
DIVERSITY
AND EQUALITY

Promoting equality and diversity on and off campus
In 2014, Frederick University founded EnAF (Equality "n" Awareness @ Frederick), a dedicated Center on Gender Issues, Diversity and Equality, in an effort to foster gender equality in and outside the organisation and to ensure equal opportunities for all.
The name of the Center captures its primary goal and, at the same time, is a reference to the word 'enough'. The Center functions as an advisory body to the Council, the Senate and the Administrations of the Schools and Departments for the promotion of equality and diversity in all levels of operation and in all the processes of academic life. It aims at:
• promoting gender issues, diversity and equality among the University community
• incorporating gender equality into the University's learning and teaching, research, operations and public engagement and activity.
• acting as an advisor to the University Council and Senate on policies, programmes and trainings related to diversity and equality on campus
• raising awareness on relevant issues and implementing relevant campaigns and projects on and off campus

Members of the Center:
• Ms Natassa Frederickou, President of the Council
• Dr Petroula Mavrikiou, Associate Professor, School of Business and Law
• Prof. Rita Panaoura, Dean of School of Education and Social Sciences
• Prof. Costas Mantzalos, Dean of School of Arts, Communication and Cultural Studies
• Dr Byron Ioannou, Associate Professor, School of Engineering
• Dr Vasiliki Karagouni, Assistant Professor, School of Business and Law
• Dr Nikleia Eteokleous, Associate Professor, School of Education and Social Sciences
• Dr Anna Chatzipanagiotidou, Associate Professor, School of Education and Social Sciences
• Dr Nicoletta Christodoulou, Associate Professor, School of Education and Social Sciences
• Ms Koulla Erotokritou, Special Teaching Staff, School of Education and Social Sciences
• Ms Panayiota Christodoulou, Lecturer, School of Education and Social Sciences
• Ms Andrea Athanasiou, Director of Studies and Student Welfare Service
• Ms Natalie Christophides, Director of Communications and Outreach Service
• Ms Meropi Moiseos, Communications Officer
• Ms Sandy Antoniou, Social Worker, Counselling Centre Coordinator
The Center plans and implements initiatives that fall under four pillars: Research, Education, Responsible Campus Operations, Public Engagement Activity. An indicative list of actions is provided below.
In addition, members of the Center participate in a variety of projects and external advisory bodies relevant to diversity, inclusion and equality, such as a project for the creation of inclusive universities and a project aiming to promote gender equality in Universities.
Development of Policies. The Center has developed a Code of Conduct on Harassment and Sexual Harassment in the workplace (ENG / GR), which serves as a guide for all members of the University community and outlines the procedures that are to be followed in case of harassment and sexual harassment. The Center is currently developing a Code of Conduct on Language Use, which will promote the use of gender-sensitive language and reduce gender stereotyping and discrimination.
HR practices. In 2015 Frederick University was certified by the Ministry of Labor, Welfare and Social Insurance as an equal opportunities employer. The University participated in the project "Actions to Reduce the Remuneration Gap between Men and Women", was evaluated by the Department of Labor Relations of the Ministry, and was one of the first organisations to be certified in 2015 as "A Good Practices for Gender Equality in the Work Environment Employer".
Ongoing training of staff on gender bias. As an example, the Center organized, in collaboration with P²DF (Personal and Professional Development @ Frederick), an interactive training of academic and administrative staff on "Unconscious Gender Bias" on October 13th, 2021. The session raised awareness on what bias is, its effects and why it results in cumulative (dis)advantage in careers. Participants discussed how bias plays out in performance evaluation, in teamwork and workplace cultures, as well as work-care reconciliation. Insights into bias mitigation were provided, as a starting point for increasing competence in dealing with bias. The trainer was Dr Claartje Vinkenburg, an independent consultant and an expert on the impact of implicit bias, normative beliefs, and discursive practices on career systems, patterns, and outcomes to promote diversity and inclusion. In addition, the University has signed the Diversity Charter to promote inclusivity in the workplace and is committed to following the Practical Guide of DCC and the accompanied online training, in collaboration with both the national and European Platform of Diversity Charters.
Women in STEM campaign. The Center worked closely with the University's School of Engineering to launch a dynamic, long-term campaign to tackle the underrepresentation of women in engineering and technology. The campaign was launched in June 2021 under the auspices of the Commissioner for Gender Equality, Josephina Antoniou. It aims at educating girls from an early age about the prospects of engineering and technology, areas in which women's participation is disproportionate, even though these sectors have excellent employment prospects and offer attractive pay packages. In this context, special scholarships are offered to all girls who choose to study undergraduate programs in Engineering and Technology at Frederick University. In addition, the Center plans to organize interactive, hands-on workshops and other activities focused on empowering young girls and motivating them to follow a career in STEM. For example, in May 2022 it hosted a STEM Day for girls aged 9-12 with creative and fun workshops around Sciences, Engineering and Technology. During this day, more than 70 girls had the opportunity to participate in robotic workshops, science experiments, architecture workshops and creative reading and writing sessions, held by members of our University community. In parallel to the children activities, their parents/guardians had the opportunity to attend workshops on raising children without gender stereotypes. A STEM Camp took place in July 2022 and engaged girls aged 13-16 in an entire week of STEM workshops and meetings with successful women in these areas.
Scholarships for victims of trafficking. Frederick University has been supporting trafficking victims for years, by offering scholarships to victims of commercial sexual exploitation and supporting them in pursuing their studies.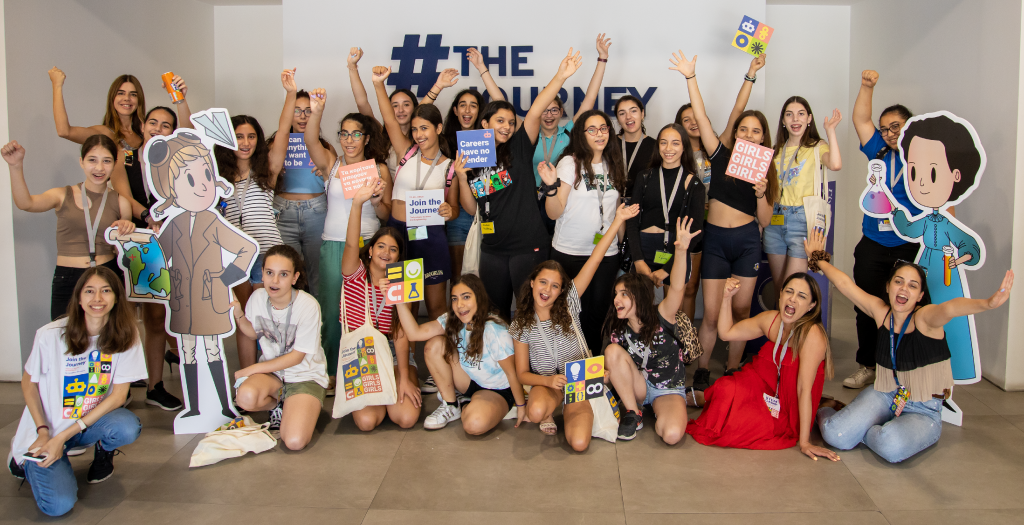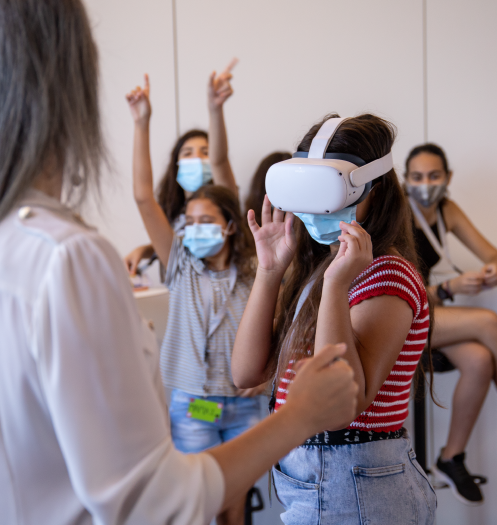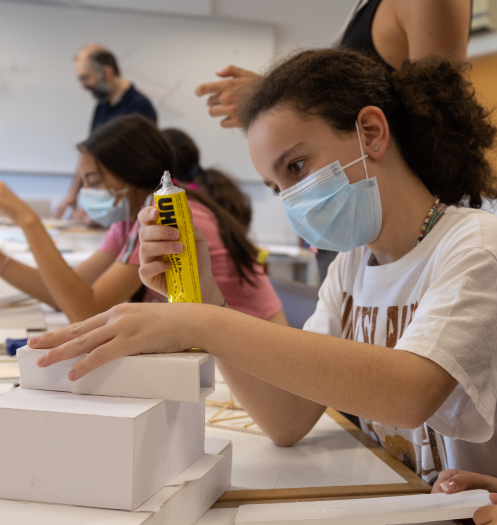 Awareness-raising campaigns on gender issues. Every year the Center organizes and implements awareness-raising campaigns on gender issues within the University community and the general public. It has implemented several successful campaigns on promoting and raising awareness on gender equality and fighting gender-based violence and human trafficking. For example, in 2019, it launched the campaign "It starts with ME, together WE can", in the framework of the international campaign 16 Days of Activism against Gender-Based Violence. The aim of the campaign was to demonstrate the personal responsibility and power that each of us has to take the first step to end gender-based violence, by challenging stereotypes and making small everyday behavioral changes that can lead to a large-scale shift of culture and attitudes in order to eliminate violence against women. As part of the campaign, the public was invited to visit the premises of the University and participate in the creation of an art project, by placing a pair of personal shoes at a predetermined area outside Frederick University as a symbolic gesture of their individual presence and commitment to change the existing culture and attitudes and end the phenomenon of gender-based violence. In addition, the public could sign the pledge to adopt attitudes that challenge gender stereotypes and promote respect. The initiative was under the auspices of the Commissioner for Gender Equality, Ms Iosifina Antoniou. In 2020, due to the pandemic, the campaign was repeated online. The public could sign the pledge online, as part of their personal commitment to adopt attitudes that challenge gender stereotypes and promote respect. The initiative was part of Frederick University's long and multi-faceted action towards raising awareness on the issues of gender equality, violence against women and healthy relationships between men and women. Another example is the award-winning campaign Red Card Campaign: (Dating Violence), which took place on-campus in 2014 and 2015. The aim of the campaign was to help our students identify warning signs in unhealthy behaviors and prevent dating violence - a phenomenon defined by assaultive and controlling behaviors that one person uses against another in order to gain or maintain power. Through the campaign, that took place in two phases, the University managed to involve more than 1000 students experientially and on a personal level and thus to open a dialogue on a difficult topic. The campaign was designed so that students could experience the issue at different emotional stages, like in their relationships: I identify the problem, recognize its existence in my life, understand the need for change, and act. The campaign was successfully repeated in 2021, with students from both Nicosia and Limassol campuses participating with their own messages and stories of dating violence and unhealthy relationships. Another awareness-raising activity was an on-screen photography exhibition titled "When Places Speak" hosted at Frederick University in December 2021. The exhibition was part of a global photography exhibit that aims to raise awareness about trafficking and shed light on the fact that sex trafficking is happening here, in places close to us, in our neighborhoods and communities. The photographs were taken by renowned photographer Achilleas Zavallis. The exhibition was curated by project leader Dr Tasoula Hadjiyiannis, Northrop Professor at the University of Minnesota, and Mr Nicolas Lambouris, Assistant Professor at the Department of Arts & Communication at Frederick University. Both shared their thoughts on the project at a panel discussion which took place online. Among the panelists were Ms Natassa Frederickou, the President of the Council of Frederick University, Ms Eleni Michael from the Cyprus Police's Crime Combating Department, and Ms Paraskevi Tzeou of the Cyprus Stop Trafficking NGO.
Events. Several seminars, public lectures, community events, conferences and workshops have been organized to raise awareness on gender equality within the University community and the general public. Every year, workshops and seminars are organized on human trafficking, either on campus (Seminar on Gender Equality) with a focus on Human Trafficking, trafficking workshops for students, screening or online (webinar on human trafficking).