Events
If you are a girl 9-12 years old, join us on a STEM Day in Limassol!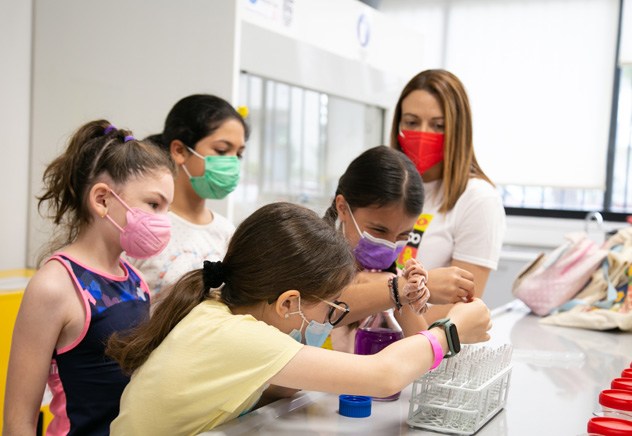 We are organizing a STEM Day in Limassol, giving the opportunity to girls aged 9-12 to participate in creative workshops specially designed for them by our academic and research staff in the fields of Engineering, Pharmacy and Robotics
Saturday, 19th November 2022
10:00-13:30
Frederick University, Limassol

After the successful organization of the STEM Day in Nicosia, Frederick University invited girls aged 9-12 years old to its Limassol Campus to meet the fascinating world of STEM fields (STEM stands for Science, Technology, Engineering and Mathematics). A day specially designed to familiarize girls with these fields, through creative workshops, experiments, and other enjoyable activities.

The STEM will take place on 19th of November, from 10:00 to 13:30 at the University's campus in Limassol. The girls will have the opportunity to participate in workshops in the subjects of Robotics, Pharmacy, Architecture taught by members of the University's community.

Alongside the activities for children, those parents who wish will have the opportunity to attend a workshop titled: "Learning ways to mentally develop and strengthen my child's self-esteem". The workshop will be conducted by Dr. Louiza Ioannidou, Registered School Psychologist and Lecturer in the Department of Psychology and Social Sciences at Frederick University and Dr. Katerina Michael, educator, psychologist/psychotherapist, and Visiting Lecturer in the Department of Education at Frederick University.

Participation is FREE. Limited number of seats. First come first served. Certificates of attendance will be given to girls and parents who attend the workshops.
You can view the workshops here (in greek).

To sign up, no later than 17th of November fill out the form: https://bit.ly/Limassol_STEM_Day
The initiative is organized within the framework of Frederick University's long-term campaign "To all women & girls: Join the journey in Engineering, Science and Technology", to address the underrepresentation of girls and women in STEM fields.