Events
The UNESCO Chair at Frederick University co-organizes the 22nd Conference of EOK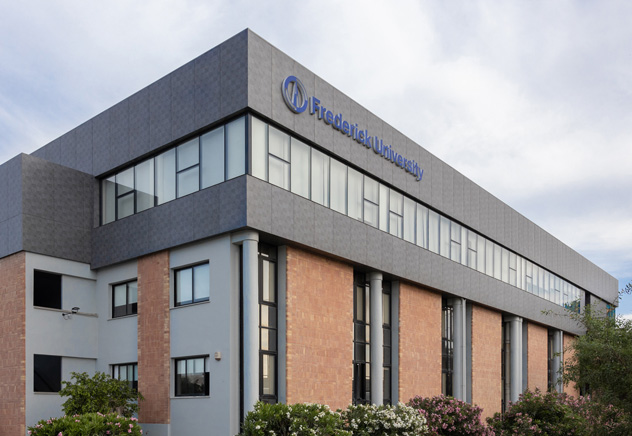 The UNESCO Chair for Lifelong Learning and Adult Education at Frederick University, in collaboration with the Pedagogical Institute of Cyprus and the EOK (Ekpaideutikos Omilos Kyprou), are jointly organizing the 22nd Conference.
The conference, with the theme "Educators in a Changing Present and an Uncertain Future: Redefining Our Role," will take place on Saturday, October 21st, from 08:30 to 13:30, at Frederick University in Limassol. It is aimed at educators of all levels, academics, researchers, students, and scholars. The Minister of Education, Sports, and Youth, Dr. Athena Michaelidou, will be the keynote speaker of the conference, addressing the theme: "The Role of Educators in the Transition to the Modern School." Greetings will be delivered by the Rector of Frederick University and Director of the UNESCO Chair, Professor George Demosthenous, the Deputy Director of the Pedagogical Institute of Cyprus, Dr. Elena Hadjikakou, and the President of EOK, Mr. Dimitris Mikellides.
The purpose of the conference is to contribute to the improvement of the education system in a time of challenges and multiple demands. The presentations will cover three main themes: Lifelong Learning, Digital Transformation, and Education for Sustainable Development (economy/environment/society). The aim is to propose comprehensive approaches to the specific issues related to the design and implementation of programs that aim to create a modern, human, and democratic school that meets the requirements of European data and the needs of the 21st century.
Members of the academic staff of Frederick University will present at the conference. The Deputy President of the University Council, Professor Costas Kadis, will speak about the European Union's Green Deal and Education for Sustainable Development. Meanwhile, Professor Rita Panaoura, the Dean of the School of Education and Social Sciences, will address Lifelong Learning and the role of Higher Education in the training and education of educators. Dr. Nicleia Eteokleous, Associate Professor of Educational Technology and Chair of the Distance Learning Committee at Frederick University will discuss quality education and the integration of new and emerging technologies in education.
The full program of the conference is available on the official website of the EOK
here
.
The presentations will be delivered in three parallel sessions, allowing participants to choose the topics of their interest each time. Educators who wish to participate in the conference can submit their registration through their accounts on the online registration platform of the Pedagogical Institute (
https://www.pi-eggrafes.ac.cy
), under the category "Conferences and Seminars," and interested individuals can register online
here
until October 15, 2023. Certificates of attendance will be provided to participants.