News
Frederick University actively involved in shaping European Universities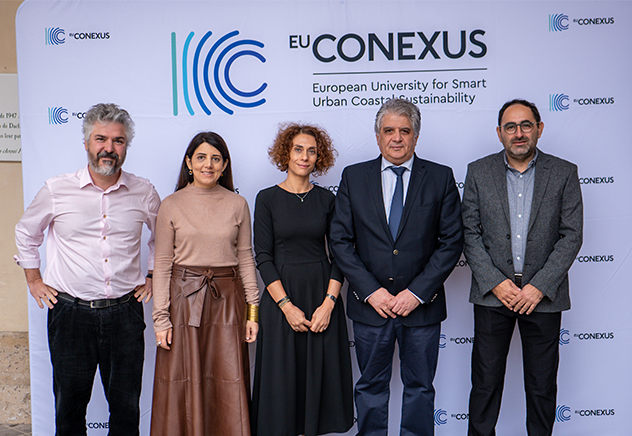 As a full member of the EU-CONEXUS Plus alliance, one of 44 networks leading the
"European Universities" initiative
, Frederick University is part of the effort to shape an innovative, globally competitive and attractive Education and Research area.
European Universities
are university alliances that develop strategic partnerships, joint curricula and research work, giving the opportunity to students to combine their studies in more than one EU country and academic and research staff to exchange knowledge and experiences. Frederick University is one of the three universities in Cyprus that participate in a European University alliance, together with the University of Cyprus and the Cyprus University of Technology (CUT).
The EU-CONEXUS Plus alliance focuses on smart urban coastal sustainability (SMuCS), and involves Universities from France, Germany, Greece, Ireland, Spain, Croatia, Lithuania, Romania and Cyprus. After the European Commission's evaluation in July 2022, EU-CONEXUS Plus was chosen to continue and further develop its activities for another four years, receiving €14.4 million in funding under the highly competitive
Erasmus+ European Universities 2022
program.
Frederick University is leading two work packages within the alliance: the
EU-CONEXUS Teaching Academy
, led by
Dr. Nikleia Eteokleous, Associate Professor at the Department of Education
and the
Green Campus
work package led by
Dr. Paris Fokaides, Associate Professor
at Frederick University's
Department of Mechanical Engineering
. Regarding the
Green Campus
, the goal for the nine EU-CONEXUS Plus universities are to become model campuses in terms of energy consumption and carbon footprint reduction. Additionally, the aim is to expand the concept of the "green campus" beyond its technical features so it can address sustainability and resilience in a social manner. Regarding the development of the
EU-CONEXUS Teaching Academy
, it will concern the training of the teaching staff, the design and development of programs relative to the EU-CONEXUS Plus themes based on three pillars: new and emerging technologies, innovative teaching methods and future skills. The building of the Teaching Academy is one of the alliance's great challenges and reflects Frederick University's own aspiration for the development of innovative teaching practices, aligned with the needs of modern societies.
It is worth mentioning that the EU-CONEXUS Plus alliance also involves 18 social partners from the nine countries where the participating universities are based: three of these social partners are from Cyprus as proposed by Frederick University:
the Cyprus Ports Authority
,
the Municipality of Limassol
and
the Municipality of Ayia Napa
.
In order to implement the objectives of EU-CONEXUS Plus, Frederick University has created structures and is developing actions in which a significant number of members of its university community are involved, including the academic, research and administrative staff, as well as University students.
The nine partners participating in the EU-CONEXUS Plus alliance are
: Rochelle Université (France), Agricultural University of Athens (Greece), Technical University of Civil Engineering Bucharest (Romania), Klaipeda University (Lithuania), Universidad Catolica de Valencia "San Vicente Martir" (Spain), University of Zadar (Croatia), South East Technological Institute (Ireland), University of Rostock (Germany) and Frederick University (Cyprus).