News
Discussion on human rights in the digital era successfully held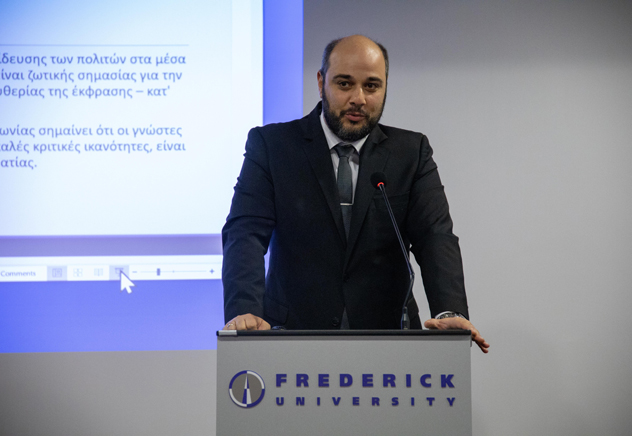 An open discussion on "Law and Technology: the challenges of the future" was successfully held at Frederick University, highlighting the need to protect fundamental rights in the digital era.
More than 100 professionals in the field of law and members of Frederick University's community participated in the event, which was organized on December 15, 2022 on the occasion of Dr. Konstantinos Kouroupis' new book publication. In the book, titled "Privacy and security in light of the European Digital Agenda", Dr. Kouroupis analyses the ever-changing field of technological advancements against privacy matters.
Cyprus' Digital Security Authority Director, Mr. Antonis Antoniadis, was a keynote speaker at the event. During his speech, Mr. Antoniades referred to Cybersecurity and the implementation of Cyprus' digital security strategy, giving examples on the topic such as the attacks on the Vaccination Gateway during the Covid-19 pandemic.
Mr. George Christofides, Vice President of the Cyprus Bar Association and member of the Law Department's Special Teaching Staff gave the opening speech and referred both to Dr Kouroupis' book and the legal framework governing technology issues in Cypriot law.
Mr. Andreas Paschalidis, former Judge of the Supreme Court and member of the Special Teaching Staff, analysed the lifting of confidentiality on telecommunication data. In a recent decision, the Supreme Court ruled that the provisions of the Retention of Telecommunications Data for the Purpose of Investigating Serious Criminal Offences Act violate EU law and are therefore invalid.
Dr. Ivi Lambrou, Assistant Professor in Frederick University's Department of Arts and Communication, addressed the issue of freedom of expression and democracy in social media. Dr. Lambrou addressed the issue of changing ownership of Twitter, recently acquired by billionaire Elon Musk, compared social media to traditional media as sources of information, and touched on the issue of credibility in terms of properly informing the public.
Last, but not least, Dr. Konstantinos Kouroupis took the floor. In his closing remarks he referred to the legally complex but necessary protection of fundamental rights and freedoms in the digital age. "Human value must be at the top of all our efforts", he said. Dr Kouroupis specialises in European law, human rights and data protection. He has contributed numerous publications to the scientific community on the aforementioned topics.