News
The 2nd Pan-Cyprian Conference on Chronic Pain was successfully held at Frederick University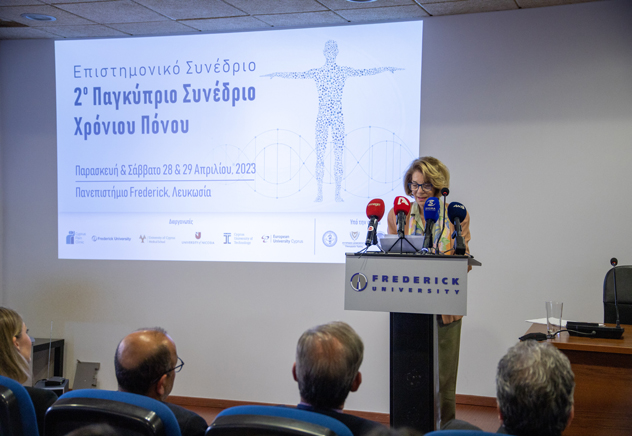 The conference on chronic pain took place on 28th and 29th of April and was attended by over 400 healthcare professionals, students from Health Sciences disciplines and members of the general public.
The opening of the conference was declared by the Minister of Health, Dr. Popi Kanari, who expressed her support for organizing such conferences. Dr. Kanari congratulated the organizers and assured the Ministry's support for the conference to acquire institutional character.

Greetings were addressed by the President of the Organizing Committee of the Conference, Dr. Panagiotis Zis, the Vice President of the Pancyprian Medical Association, Dr. Chrysanthos Georgiou, and the President of the Pancyprian Association of Nurses and Midwives, Dr. Ioannis Leontiou.

During the conference, distinguished scientists of international stature and prominent academic figures from universities in Cyprus and abroad presented pioneering research studies in the interdisciplinary conference, highlighting the complexity of chronic pain and introducing advanced therapeutic approaches.

Frederick University congratulates the members of its academic community for their contribution to the organization of the conference, especially Dr. Evanthia Asimakopoulou, Associate Professor at the Department of Nursing, and Dr. Charalambos Triantos, Assistant Professor at the Department of Pharmacy, who participated in the Organizing and Scientific Committee of the Conference.
The Pan-Cyprian Conference on Chronic Pain is co-organized by the Cyprus Pain Clinic and the Education Sector of Nursing Services of the Ministry of Health in collaboration with the universities in Cyprus that have Schools of Health Sciences: Frederick University, University of Cyprus, University of Nicosia, Cyprus University of Technology, and European University Cyprus.