News
HEPA research project highlights the importance of physical activity in schools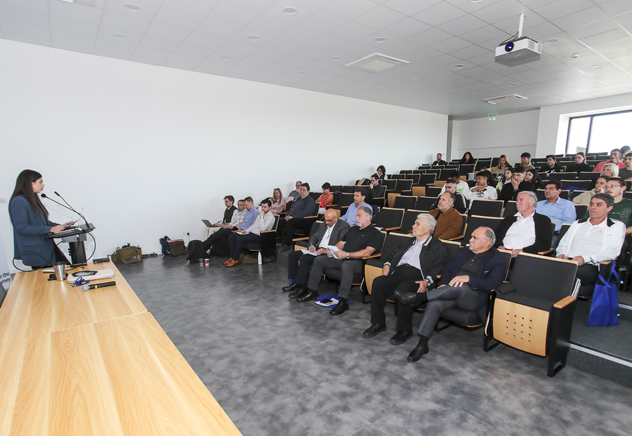 On March 30th, Frederick University in Limassol hosted a conference to present the findings of the HEPA - Health Enhancing Physical Activity research project.
The project, funded by the Erasmus+ program, focuses on promoting physical activity in schools and adopts a holistic approach to encourage healthier lifestyles among students.

The conference brought together academics and researchers from Cyprus, Greece, Finland and the UK, to discuss best practices for promoting physical activity within school environments. The central question addressed was how the school environment can influence physical activity promotion.

Frederick University coordinates the HEPA project, collaborating with partner organizations across Europe, including Aristotle University of Thessaloniki (Greece), Cardiff Metropolitan University (UK), Directorate of Secondary Education of Pieria (Greece), EuropeActive (Belgium), University of Jyväskylä (Finland), University of Bolzano (Italy) and the Cyprus Olympians Association (Cyprus). The project aims to provide educational materials to stakeholders in the field of education to encourage physical activity within schools, extending beyond traditional physical education classes.

Notable attendees at the conference included Mr. Andreas Michaelides, President of the Cyprus Sports Organisation (CSO), and Mr. Kostas Mylonas, Inspector of Physical Education in Secondary Education on behalf of the Minister of Education, Sports, and Youth, Dr. Athena Michaelides.

Dr. Elena Papakosta, Assistant Professor of Occupational Physiology at Frederick University's Physical Education and Sport Science Program, emphasized the importance of adopting a holistic approach to promoting health-enhancing physical activity in schools. "Our primary goal was to identify a more effective and holistic approach. The promotion of physical activity within the school environment is designed to address this need by emphasizing the influence of the school environment and physical education as means of fostering health-enhancing physical activity. Consequently, a second crucial requirement emerged: the necessity to educate education professionals and school authorities about the potential of schools and physical education in promoting health-enhancing physical activity. Early education is vital to enable children to incorporate physical activity into their daily lives since research consistently demonstrates that active children tend to become active adults," explained Dr. Elena Papakosta, Assistant Professor of Occupational Physiology in the Physical Education and Sport Science Program at Frederick University, researcher, and coordinator of the HERA project.
The research underscores the role of schools and physical education in shaping lifelong physical activity habits in children.

Speakers from different organizations and countries shared insights during the conference:

Declercq Lukas from EuropeActive stressed the importance of a cross-sectoral approach to promoting physical activity while Paul Sellars, a researcher at Cardiff Metropolitan University's Research Centre for Health, Activity and Wellbeing, discussed successful practices in Wales for enhancing physical activity and overall health.
Timo Jaakkola and Mikko Huhtiniemi from Jyvaskyla University in Finland provided examples of creating active schools that encourage physical activity. Furthermore, Dr. Panos Konstantinides, Assistant Professor at the Physical Education and Sport Science Program at Frederick University and Dr. Victoria Pavlou, Associate Professor at the Department of Education at Frederick University offered valuable insights.
The HEPA project and the development of educational materials were also discussed by experts from Aristotle University and other institutions.
The panel was moderated by Dr. Elena Papakosta.