News
An exciting STEM Day for girls aged 9-12 at Frederick University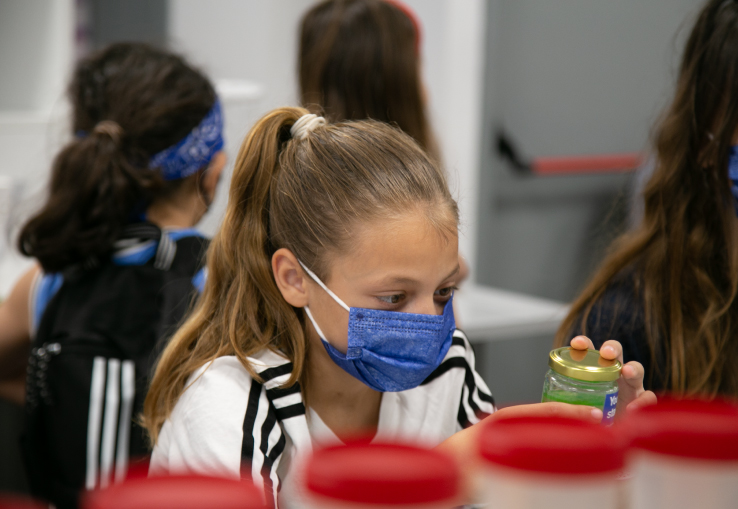 More than 70 girls aged 9-12 years old had the opportunity to enjoy a day dedicated to the STEM (Science, Technology, Engineering and Mathematics) sectors on Saturday 14th of May, at Frederick University, in Nicosia
The STEM Day included workshops in Robotics, Pharmacy, Architecture and Creative Reading that were designed especially for girls. The goal was to bring the girls in direct contact with those sectors, in which women are usually underrepresented in. The girls conducted experiments in the Pharmacy workshops and made their own lava lamps, programmed robotic vehicles, explored the mock-up of a two-storey building, driven their figures in tracks they designed on the computer and familiarised themselves with fearless women like Marie Curie and Amelia Earheart.
At the same time, the girls' parents had the opportunity to participate in experiential workshops, in which they discovered ways, tools and methods to encourage their children and raise them up without gender stereotypes.
The STEM Day is part of the long-term campaign of Frederick University titled "To all women & girls: Join the journey in Engineering, Science and Technology". Its goal is to increase girls and women's participation in Engineering, Science and Technology, sectors which present great growth prospects. The campaign also aims to raise awareness in the audience and fight stereotypes regarding study and career choices by girls and women, due to the fact that many girls, even to this day, continue to be restricted by discrimination, prejudices, social rules and expectations that influence their choices.
Ms Natassa Freiderickou, the President of the Council of Frederick University, said: "It is especially pleasing for us to see the girls and their parents responding massively and excitedly to our initiatives - such as the STEM Day, which was completed with great success, and we expect that will be repeated soon as it becomes more established. This fills us with optimism, and it inspires us to continue our action in this crucial field. The integration of the 17 Sustainable Development Goals of the United Nations in the University's strategy has any way strengthened our commitment regarding the Goal of Gender Equality even more."
After the successful organisation of the STEM Day, Frederick University is getting prepared to host a series of experimental workshops for young girls aged 13-16 years old. During these workshops, the girls will have the opportunity to explore, create, experiment, build, and problem-solve in a way that will develop their genuine interest for the STEM sectors and include them in their choices for study and career prospects. Aside from the workshops, the programme will also include visits by relevant organisations and meetings/conversations with women that excel in these sectors and who can be a source of inspiration for these girls. More information and the registration procedures to the workshops will be announced soon.
More information for Frederick University's campaign: https://www.frederick.ac.cy/women-in-STEM/el/home-en