Events
"When places speak" exhibition and panel discussion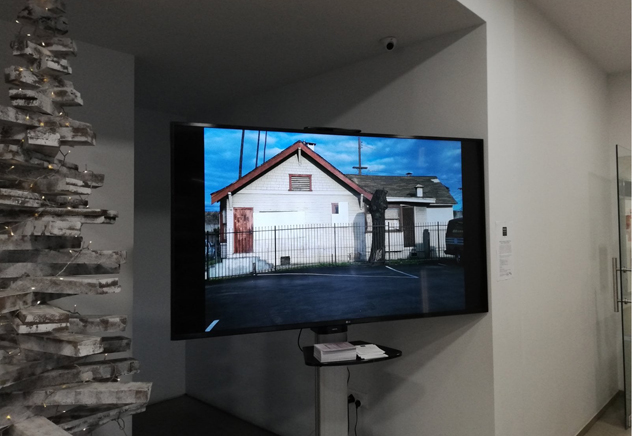 Frederick University hosted the on-screen photography exhibition/installation "When Places Speak" between 13-18 December 2021. The exhibition provides a forum for places associated with trafficking to tell their story: from places where victims are recruited to places used by purchasers to meet victims, places used by law enforcement to stop trafficking, and places where victims can transition.
The photographs on-screen at Frederick University's main entrance were taken by renowned photographer Achilleas Zavallis. The exhibition was curated by project leader Dr Tasoula Hadjiyiannis, Northrop Professor at the University of Minnesota and Mr Nicolas Lambouris, Assistant Professor at the Department of Arts & Communication at Frederick University.
In addition to the exhibition, a hybrid panel discussion (online and physical presence) took place on December 15th. By starting dialogues around the places sex trafficking touches, we can shed light on the fact that it is happening here, in our neighborhoods and communities.
Panelists in the discussion were:
Dr Tasoulla Hadjiyanni, Northrop Professor, University of Minnesota (Project Leader)
Natasa Frederickou, Council President, Frederick University
Eleni Michael, Office of Combatting Trafficking in Human Beings - Crime Combating Department - Cyprus Police
Paraskevi Tzeou, Cyprus Stop Traffiking
Nicolas Lambouris, Assistant Professor, Frederick University
During the discussion, Ms Frederickou, President of the University's Council highlighted the University's commitment in organizing and implementing awareness-raising campaigns on gender issues, gender-based violence and human trafficking both within the University community and the general public.
You can watch the discussion here.
The exhibition was organized by partnering institutions: the University of Minnesota, Frederick University, UNIT [Photography. Film+Media. Center], the International Association of Photography & Theory [IAPT], the Cyprus Refugee Council and the Office of Combatting Trafficking in Human Beings - Crime Combating Department - Cyprus Police.