News
Our University's research excellence displayed at Researchers' Night 2023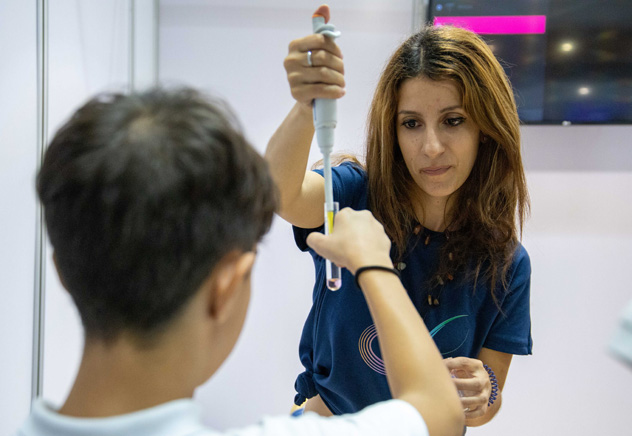 September 29 marked a day of celebration for science and innovation during this year's European Researchers' Night, hosted at the Cyprus State Fair. Visitors eagerly engaged in a day of knowledge and interaction, actively participating in a wide range of activities.
This year's event was focused on the "European Missions": 1) Adaptation to Climate Change, 2) Cancer, 3) Restore our Ocean and waters, 4) Climate Neutral and Smart Cities and 5) Healthy Soil.
Frederick University participated with four activities reflecting the research carried out by our academic and research staff and showcasing innovative solutions in the fields of circular economy and reuse of waste, biodiversity and monitoring of birdlife, natural hazards and precautionary measures as well as in the field of pharmacy and the detection of antioxidants in natural products.
Here's a recap of our participation:
"Natural hazards: Effects on humans and the environment" in the thematic area: Adaptation to Climate Change
Through a card game, visitors were given the opportunity to learn the myths and truths of natural hazards such as earthquakes and floods, and learn about the ISTOS research project. The goal of ISTOS, coordinated by Dr. Petros Christou, Associate Professor in the Department of Mechanical Engineering and Lead Researcher at the AIM - Advanced Infrastructure and Materials Research Group, is to strengthen scientific excellence and innovation capacity in the area of the structural safety of buildings and infrastructure, disaster risk reduction (e.g. earthquakes, floods, medicanes), and post-disaster management.

"Can we build with construction waste?" in the thematic area: Climate-Neutral and Smart Cities
The management of Construction and Demolition Waste (CDW) faces several challenges and appears to be underperforming, despite the fact that a comprehensive legislative framework concerning the management of CDW is in place since 2011. The DEFEAT research project, led by Dr. Demetris Nicolaides, Associate Professor at the Department of Mechanical Engineering, responds to the challenge of waste management from excavations, constructions and demolitions. DEFEAT's research team focuses on reusing construction waste to produce new, innovative and high added value building materials so that there is a significant incentive for their reuse.
"Listening to nature" in the thematic area: Adaptation to climate change
Visitors were able to listen to sounds recorded in important ecological areas of Cyprus and learn how such sounds are analyzed by using innovative artificial intelligence (AI) techniques developed at Frederick University and thus contributing to the protection of the island's birdlife. Funded by the European Commission through the HORIZON EUROPE – ERA Fellowships program, the BIOMON research project aims to develop new artificial intelligence (AI) methods for monitoring birds in rural areas of high natural value in Cyprus, using acoustic sensors. The use of passive acoustic monitoring methods to survey bird communities is a pioneering and innovative approach with significant benefits and worldwide interest.

"Is it good for my health? Let the colors speak" in the thematic area: Cancer
In the Pharmaceutical Science, various natural antioxidant products are used to promote good health and well-being. The activity of such natural products was compared through color changes in test tubes and visitors were able to see the positive effect of antioxidants on health as well as the effect of harmful factors, understanding their importance in diseases such as cancer. This activity was carried out by members of the Department of Pharmacy.
We extend our gratitude to our dedicated research and academic staff whose efforts played an important role in ensuring the success of our University's participation. We would also like to express our appreciation to the Research and Innovation Foundation (RIF) for their outstanding organization of the event, which firmly places Cyprus on the map of research and innovation excellence.