News
1st and 2nd place in the 5th International Ambulance Crew Competition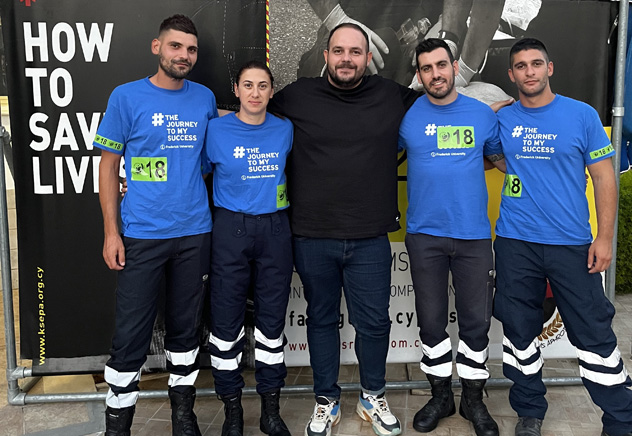 Once again, students from Frederick University and the Frederick Institute of Technology secured another win, bringing the International Ambulance Crew Competition (Cyprus EMS Aphrodite Rally 2023) to a successful close in Agia Napa.
This marks the fifth participation of Frederick University in the competition, with three previous first-place victories. Likewise, the Frederick Institute of Technology clinched first place in both of its two years of participation.
The competition, which takes place every two years and adheres to international standards, is organized by Cyprus Emergency Service, with the aim of educating and showcasing Cyprus' exceptional prehospital healthcare services to the international community. Teams of nurses, paramedics, doctors, and students participate in separate categories in the competition. Each team competes in 10 different scenarios, with access to an ambulance and all necessary equipment. This year, teams from Cyprus, the Czech Republic, Poland, Austria, and Greece competed among others. The teams responded with ambulances to simulated emergency incidents involving Trauma, Cardiology Emergencies, Urgent Pathology, and Mass Casualty Health Management, in various locations in the broader Famagusta area, under challenging conditions, with the goal of gaining knowledge and experience.
This year, for the first time, students studying in Frederick University's Nursing program and students in Frederick Institute of Technology's "Paramedic-Ambulance Crew" program participated together in the same teams, achieving interdisciplinary collaboration between the two fields of expertise. These students were rewarded for their efforts in the best possible way, as their teams secured 1st and 2nd place in the student category of the competition.
The team that secured first place is composed of the following members: Luka Konstantinidi, Christiana Mytilinaiou, Michalis Lambrou, and Polykarpos Kleitou. Meanwhile, the team that achieved second place consisted of the following members: George Kateris, Theodora Michaela Sofokleous, Theophylaktos Christofi, and Michalis Isangoulov.