News
Dozens of girls discovered the exciting world of Science, Technology, and Engineering at Frederick University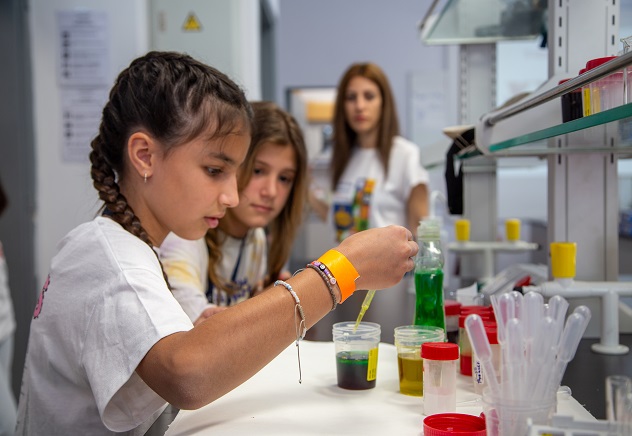 A day dedicated to STEM (Science, Technology, Engineering, and Mathematics) fields offered more than 70 girls from the local community the opportunity to participate in various interactive workshops on Saturday, May 14, at Frederick University in Nicosia.
The STEM Day included workshops on Robotics, Pharmacy, Architecture, and Creative Reading, specifically designed to introduce girls aged 9-12 to these fields, where women have traditionally been underrepresented. The girls conducted experiments in the Pharmacy laboratories, created their own lava lamps, programmed robotic vehicles, explored a model of a two-story building, designed tracks on computers, and were introduced to remarkable women such as Marie Curie and Amelia Earhart.
STEM Day for Girls is a special event regularly organized at Frederick University, featuring free, fun, and educational workshops designed to engage and inspire young girls in the wider community to explore the exciting world of science, technology, and engineering, while the parents of the girls have the opportunity to participate in interactive workshops where they discover tools and methods to inspire their children and raise them without gender stereotypes.
STEM Day is part of Frederick University's long-term campaign titled "To all women & girls: Join the journey in Engineering, Science, and Technology." The campaign aims to increase the participation of girls and women in Engineering, Science, and Technology, fields that offer excellent employment prospects. The campaign also aims to raise public awareness and combat stereotypes related to the study and career choices of girls and women, as many girls today are still limited by discrimination, prejudices, societal norms, and expectations that affect their choices.
Natassa Frederikou, President of the Frederick University Council, states, "We are particularly pleased to see girls and their parents responding in large numbers and with enthusiasm to our initiatives, such as STEM Day for Girls. This fills us with optimism and inspires us to continue our action in this crucial field. The underrepresentation of women in STEM fields is a significant issue with far-reaching implications. To address this disparity and achieve Sustainable Development Goal 5 (SDG 5) related to gender equality, it is crucial to develop and execute specific and deliberate interventions that target and encourage women to participate in STEM at all levels. The STEM Days, which are regularly organized at Frederick University, are integral parts of our educational initiatives designed to foster an early interest in STEM among girls in the wider community."
Following the successful organization of STEM Day, Frederick University is preparing to host a STEM Camp for girls, which will include a series of experiential workshops for young girls aged 13-16. During these workshops, girls will have the opportunity to explore, create, experiment, build, and solve problems. The program will also include visits to relevant organizations and meetings/discussions with women who excel in these fields and who can serve as a source of inspiration for these girls. More information and the registration process for the workshops will be announced soon.
For more information about Frederick University's campaign:
https://www.frederick.ac.cy/women-in-STEM/el/