News
Collaboration with the Cyprus Pain Clinic on the organization of annual conference on Chronic Pain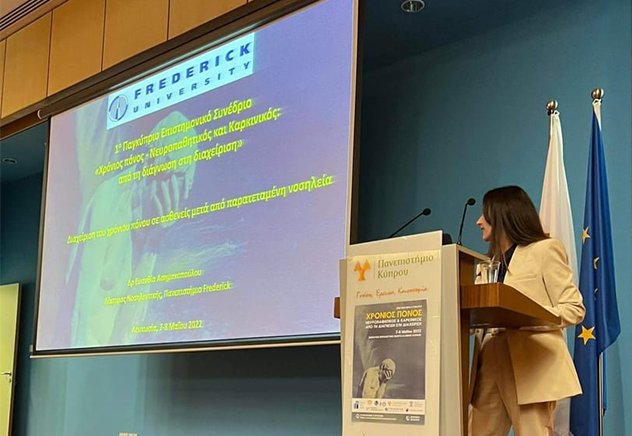 Dr Evanthia Asimakopoulou, Lecturer at the
Nursing Department
, and Dr Charalambos Triantis, Assistant Professor and Vice-Chair at the
Pharmacy Department of Frederick University
, were among the speakers at the 1st Pan-Cyprian Conference on Chronic Pain.
The conference focused on "Chronic Pain - Neuropathic and Oncological: From Diagnosis to Management". With an interdisciplinary approach to the topic of chronic pain, the conference presented the most recent and innovative developments in diagnostics and therapeutics. The ultimate goal was to improve the quality of life for individuals suffering from chronic pain.
The conference was held on May 7th and 8th at the Siakoleio Educational Center for Clinical Medicine Amphitheater in Nicosia. It was attended by 180 healthcare professionals from Cyprus and abroad, as well as members of the general public and patient associations.
Dr. Asimakopoulou spoke about "Managing chronic pain in patients after prolonged hospitalization" while Dr. Triantis addressed "Pharmacological management of patients with neuropathic pain".
The conference was co-organized by the Ministry of Health of the Republic of Cyprus, Cyprus Pain Clinic, Frederick University, the University of Cyprus, the Cyprus University of Technology, the European University, and the University of Nicosia.
Frederick University has an ongoing collaboration with the Cyprus Pain Clinic and Dr Asimakopoulou serves as a member of the Scientific Committee of the conference, which will be organised annually.