News
European Conference on GIG-ARTS hosted by Frederick University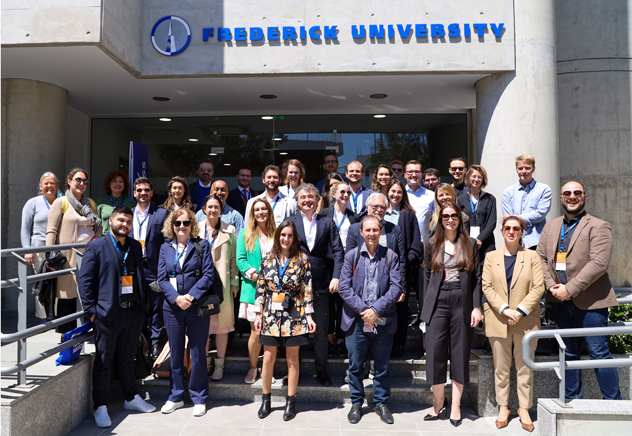 Τhe 6th European Multidisciplinary Conference on Global Internet Governance Actors, Regulations, Transactions and Strategies (GIG-ARTS) was hosted by Frederick University on April 13-14th, in Nicosia.
This year's Conference, titled "Global Internet Governance and International Human Rights - Whose Rights, Whose Interpretations?" brought together scholars and stakeholders from all over the world to discuss the developments in Global Internet Governance (GIG) and their implications in and beyond this field of research. The Conference examined the governance of human rights in the digital world and suggested answers to the question: Whose human rights and whose interpretations are determining the present and future of global internet governance?

GIG-ARTS 2022 was co-organized and co-sponsored by Frederick University (Cyprus), COST Action GDHRNet - The Global Digital Human Rights Network (EU), Leibniz Institute for Media Research | Hans-Bredow-Institut (Germany), LIP6 Laboratory, Sorbonne Université & CNRS (France) and the Media Governance and Industries Research Lab & Jean Monnet Centre of Excellence FreuDE, University of Vienna (Austria).
During the two-day conference held at Frederick University in Nicosia, scholars from Cyprus and abroad met with stakeholders in governmental organizations and institutions, regulating agencies and NGOs to discuss the global internet governance processes in a number of roundtables, panel discussions and keynote sessions.

Among many others, Cypriot Commissioner for Personal Data Protection, Ms Irene Loizidou Nikolaidou provided important insights into digitalization while safeguarding our digital rights and the role of the national data protection authority while co-founder of Homo Digitalis NGO in Greece, Mr Stefanos Vitoratos, elaborated on the use of digital technology in public life and the incorporation of EU digital agenda by national policies. Keynote speaker Marc Rotenberg, President of the Center for AI and Digital Policy in Washington DC offered a global perspective on Policies and Practices regarding AI, Human Rights and Democratic Values. Mr Jonas Grimheden, Head of the Fundamental Rights Office of the European Border and Coast Guard Agency (Frontex) in Warsaw, Poland, also participated the Conference and talked about Migration Control Technologies towards an e-Fortress Europe.
About GIG

The earlier controversies regarding human rights implications of Internet uses emerged twenty years ago at a national level, leading policymakers to start addressing issues related to e.g. illegal and harmful content vs. freedom of expression; state surveillance, private companies abuses, and various forms of cybercrime activities vs. the protection of privacy and personal data; intellectual property rights vs. a vision of Internet content as commons to foster education, knowledge, innovation and global development. These debates also led to procedural issues related to the role and liability of Internet intermediaries, in terms of legal, technical and economic aspects. During the United Nations' World Summit on the Information Society, the need to define globally how the Internet should be governed, and how Internet governance processes should be institutionalized in an open and inclusive manner was highlighted.

Today, many still unresolved challenges are raised for policymaking decisions, among which the need to channel and maintain European values in global Internet governance processes and the need to ensure that European and third countries (especially those in the EU's neighbourhood) Internet-related legislations and regulations embed them. Such good governance values are that of sustainability, participatory governance, openness and transparency in policies and markets, the respect of human rights, social justice and social cohesion, as well as democracy and the rule of law.

GIG-ARTS 2022 continued the conversation on global internet governance from attention to institutions and structural factors to the role of content and misinformation as an object of governance, and internet actors as forces of change.

GIG-ARTS 2022 co-chaired:
Dr Konstantinos Kouroupis, Department of Law, Frederick University
Meryem Marzouki, CNRS & Sorbonne Université
Katharine Sarikakis, University of Vienna
Martin Fertmann (Junior co-chair), Leibniz Institute for Media Research | Hans-Bredow-Institut