News
Development of a platform and app for early childhood development monitoring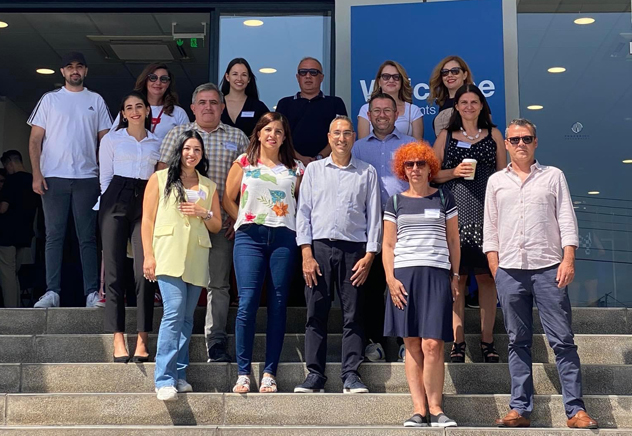 Harnessing technology to monitor children's development at an early age, identify possible special educational needs and provide early intervention is the goal of the UPDEIT project in which Frederick University is a partner.
"Developmental milestones such as a child's first step, smile, or greeting are crucial. Early identification of developmental delays is particularly significant for any child's overall development. Through the UPDEIT project, our objective is to harness technology and create accessible tools for achieving early intervention. We aim to establish the conditions necessary for a child to reach their full potential and enhance their development," comments Dr. Achilleas Achilleos, the project leader at Frederick University's Mobile Devices Laboratory (MDL), actively involved in the UPDEIT - Updating University Curricula in Early Intervention project.
Moreover, according to Dr Christos Markides, principal investigator on the project: "We have developed an online platform featuring information, open educational resources (OER), and diagnostic assessment questionnaires. Therapists can use these tools to identify children with developmental problems or disorders. Additionally, the platform allows for maintaining assessment histories and assigning suitable exercises for early intervention. Our next objective is to ensure that parents, caregivers, and professionals can access this material through the mobile app tracker designed to monitor children's development."

The UPDEIT project additionally seeks to update curricula related to early intervention for children with developmental delays. Updated knowledge ensures the sustainability of the project's results, as well as promoting quality improvements and innovation in higher education institutions through transnational partnerships between education and training providers and other stakeholders. The goal is to enhance the fundamental competencies and skills of existing and future professionals in these fields, as well as to foster greater knowledge and acceptance of diversity in society.

In the framework of the UPDEIT project, Frederick University hosted 20 researchers and professionals from the four institutions participating in the project, in order to train them on the web platform and the tracker mobile app developed by the University's Mobile Devices Laboratory (MDL). The meeting took place on 26-29 September at the University's Limassol campus. The partners evaluated the app and the platform and exchanged views on their improvement.

Frederick University's Mobile Devices Laboratory (MDL) focuses on scientific research in web and mobile computing, virtual and augmented reality, big data management, and multi-objective optimization methods that leverage cloud technologies to develop intelligent systems (IoT).
The UPDEIT project
is co-funded with the support of the European Union under the KA220-HED program and has a duration of two years. The project consortium includes the Faculty of Philosophy Ss. Cyril and Methodius University (North Macedonia - project coordinator), University de La Laguna (Spain), Uchilnica Daskalovski (North Macedonia) and Frederick University (Cyprus).