News
The 22nd Pancyprian Scientific Conference of EOK was successfully completed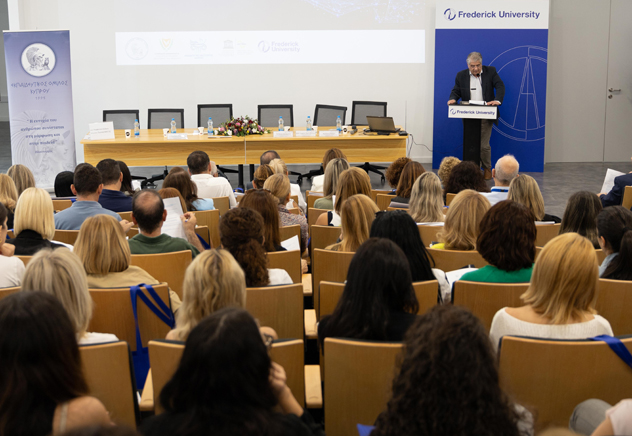 The 22nd Pancyprian Scientific Conference of the Cyprus Educational Organization (EOK), in collaboration with the Pedagogical Institute and Frederick University's UNESCO Chair for Lifelong Learning and Adult Education, concluded with a substantial turnout of teachers and the general public.
The conference, titled "Educators in a changing present and an undefined future: redefining our role" took place on Saturday, October 21, 2023, at Frederick University in Limassol.

In the conference's keynote speech, Dr. Athena Michaelides, the Minister of Education, Sports, and Youth, elaborated on the teacher's role in the transition to the modern school, focused on the primary challenges confronting schools, and discussed ways to address these challenges.
Subsequent presentations, organized into three parallel themes and delivered by distinguished speakers and academics, covered intriguing aspects related to lifelong learning, digital transformation, and education for sustainable development (economy/environment/society).

The Conference was addressed by Professor George Demosthenous, Frederick University's Rector and Director of the UNESCO Chair, Dr. Elena Hadjikakou, Deputy Director of the Pedagogical Institute of Cyprus, and Mr. Dimitris Mikellides, the President of EOK.

The Conference's speakers included members of our University's academic staff. Professor Costas Kadis, Vice President of the University Council, presented the European Union's Green Deal in the context of Education for Sustainable Development. Professor Rita Panaoura, Dean of the School of Education and Social Sciences, discussed Lifelong Learning and the role of Higher Education in the training and education of educators. Dr. Nicleia Eteokleous, Associate Professor of Educational Technology and Head of the Distance Learning Committee at Frederick University, delved into the integration of new and emerging technologies in education.

The Conference concluded with a presentation of the findings and a discussion in which Ms. Despo Michailidou-Livaniou, the Commissioner for the Protection of Children's Rights, Mr. Dimitris Taliadoros, the President of OELMEK, and Dr. Myria Vassiliou, the President of POED, participated.

As part of the Conference, Dr. Kyprianos D. Louis, the Director of Secondary General Education, was honored for his longstanding and multifaceted contributions to educational events in Cyprus.

The Conference attracted more than 200 teachers from all levels, providing them with the opportunity to engage with the speakers and reflect on critical issues pertaining to education in an era marked by intense challenges and multiple conflicts.

The Conference was held within the framework of a Memorandum of Understanding between the UNESCO Chair for Lifelong Learning and Adult Education at Frederick University and EOK. The two institutions will continue their multi-level cooperation through various activities.